Mobile-Oriented PPC Campaigns
Mobile devices are playing a larger and larger role in the life of a paid search marketer and it is projected that a quarter of all paid clicks on Google will come from mobile devices by the end of the year. That's basically a 500% increase from the beginning of 2011! Silently but surely, Google has a mobile product portfolio readied for the burgeoning mobile search market.
This wouldn't be such a big deal if all you had to do was make sure that high-end mobile devices are enabled for your campaigns. However, you and I (and everyone else with a smart phone) knows that searching on a mobile device is a vastly different experience than searching on a desktop.
The format of the results page is different. The keyword is different. User intentions are different. Competition is different. And though this may seem obvious, the device itself is quite different (unless your computer has a built in GPS!). Put all of these differences together and you get a whole new set of best practices that you should employ when targeting mobile PPC searchers.
Here are some guidelines that you can use when building out your mobile campaigns:

Take advantage of ad extensions when building out a mobile PPC campaign. Specifically, the call and location extensions take advantage of smart phone devices by allowing users to click-to-call and easily get directions.
To learn more about using Google's various ad extension options, check out our Ultimate Guide to Google Ad Extensions.
Mobile PPC Keywords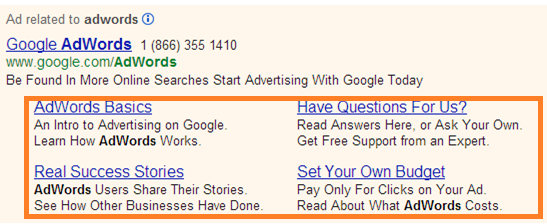 Between thumb-typing and voice searching, keywords on mobile can be tricky. Here are some things to keep in mind:
Broad match keywords perform well in mobile campaigns, as mobile users frequently mistype their search queries. Also be sure to allow close variants if using phrase and exact match.
Average search query length is actually similar on mobile devices and desktops, so don't limit yourself to shorter keywords.
Use action-oriented keywords – mobile users are looking to make a decision quickly.
Bidding on Mobile PPC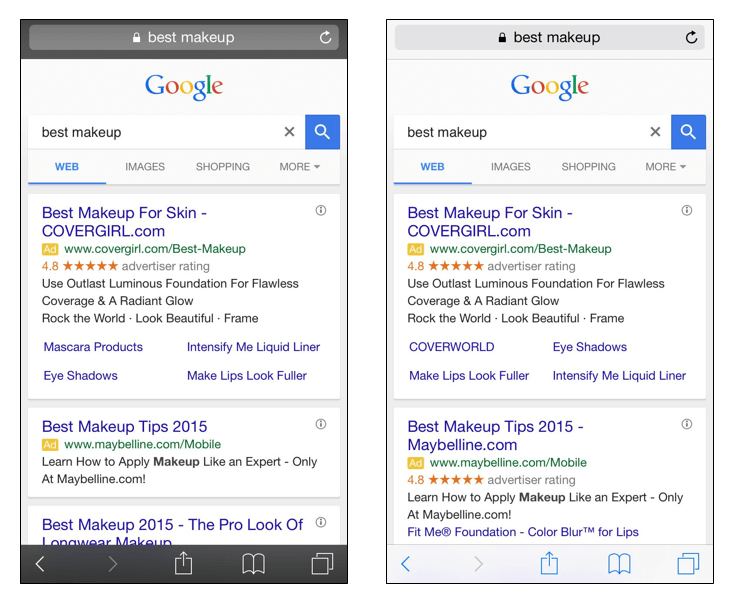 The condensed search engine results page (only two ads on top and three ads on the bottom) makes achieving a high position imperative. Monitor your position closely to make sure that people are actually seeing your ad. You may have to raise your bid, but keep in mind that costs per click on mobile are generally lower than regular desktop search. (As an added bonus, click-through rates are higher!)
Mobile Text Ads
Mobile users are generally looking to take immediate action (as opposed to conduct research). Here are some best practices to employ when writing text ads:
Tailor your offers for mobile searchers by incentivizing users who call or click from their phones. Make sure that your offers and calls-to-action speak to mobile users. For example, use phrases like "From Your Phone" and "Call Now."
Watch your phone numbers – You don't need to include your phone number in the ad text if you are already using call or location extensions; it will appear automatically. Also, you also can't use your phone number in the headline of a mobile ad or as a sitelink.
Mobile Landing Pages
You want to direct searchers to mobile-optimized landing pages or else Google may penalize your Quality Score. Follow these guidelines to ensure that mobile searchers have a good experience on your website.
Landing pages should be lightweight and load quickly. This is a general best practice, but mobile users are especially impatient and may have slower internet connections.
Be very direct and concise; don't use a lot of text as this can be hard to read on mobile devices.
Use large text and big buttons that can easily be clicked by a thumb.
Include a phone number on the page if you are set up to receive phone calls.
Include your address, if you are a local business, to make it easy for people to get directions.
Use as few fields in forms as possible.
Let's be clear: Mobile PPC is coming. Google is pushing mobile adoption and searchers are becoming more and more dependent on their smart phones. It may seem like a pain in the rear end to create new campaigns tailored specifically for smart phones, but in reality, mobile PPC advertising represents a great opportunity for paid search marketers to engage with searchers in a way they've never been able to before. And as my friend's long-time girlfriend is fond of saying, "more engagement equals more happiness."